Well we've managed to survive another week, and what a long (but productive) week it's been!


Monday was a busy day with more back-to-school preparations for the twins. Much to my distress, they decided they'd like to bring bento lunches to school every day. While bentos are fun (and quite a novelty here), they can be very time consuming! Prior to pulling them from public school, we were completely bento-crazy around here. I used to spend *hours* making their lunches and even ordered numerous bento supplies (via a shopping agent) directly from Japan. As a result, we have several large cabinets loaded with bento boxes and bags, plus every kind of accessory. A lot of our stuff has never even been used. Finally, I agreed that they could bring very basic bentos. They started school on Tuesday, full of enthusiasm.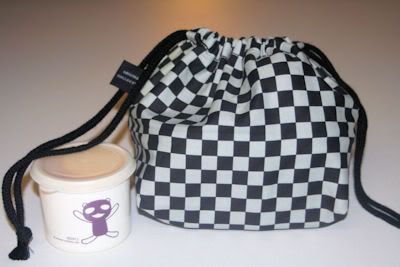 Meanwhile, here at home, Dominic, Maddie, and I managed to stay quite busy. Here's what we accomplished.
History
As for what I've added into the schedule: Maddie read two chapters from Our Island Story and starting next week, she'll also be reading two chapters per week from Britannia: 100 Great Stories from British History by Geraldine McCaughrean. Dominic will be reading a chapter per week from The Birth of Britain: A History of the English Speaking Peoples by Winston Churchill, in addition to the history work we'll continue doing together (loosely following the schedule outlined in TruthQuest History). I spent most of the week trying to align everything neatly so that our TruthQuest work would match up to their independent history work, but finally gave up. I'm fully aware that this is a rather muddled way of doing things, but it will have to suffice for now; my poor brain is just worn out!
Our curricula additions were inspired by a combination of sources: Ambleside Online, Mater Ambilis, and this mysterious St. Thomas School Curricula that I discovered and have fallen in love with (something about the way each lesson is so nicely plotted out is very appealing!). My Amazon Prime trial membership really and truly came in handy this week also, but as I've discovered, is slightly dangerous. I ordered oodles of books with very little thought and have yet to make sense of them all.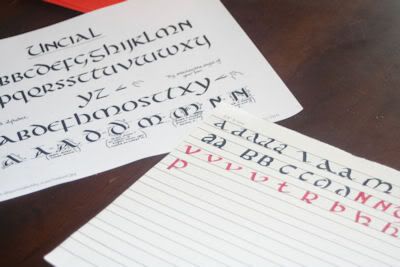 Maddie's [not-yet-illuminated] illuminated letter
Geography
Geography is a subject that we never managed to squeeze in previously, so I'm happy that we were able to start on it this week. Maddie read from A Book of Discovery by MB Synge (available for free here). Hopefully by next week we'll have Richard Halliburton's Complete Book of Marvels and she'll read one chapter from each book per week. Dominic read portions of Sun Dancing because we're still waiting on The Brendan Voyage to arrive. I'm considering adding in Mapping the World with Art as well.
Literature
We began some pre-reading work for the books they'll be starting next week. Dominic will be reading The Hobbit and completing the Progeny Press Study Guide, and Maddie will be reading The Wind in the Willows. I'm compiling a study unit for her using ideas from this and this. Dominic will also start on The Once and Future King next week, and they'll both be reading a chapter per week from English Literature for Boys and Girls. Maddie may also start The Princess and the Goblin next week. Lastly, we read the Preface to Bullfinch's The Age of Chivalry, another book they'll be reading from weekly.
Science
Science is yet another subject that we've woefully neglected in the past. The kids read two chapters from The Story Book of Science (available for free here), and again, we're waiting on a book to arrive: For the Beauty of the Earth (which I purchased from the delightful Keller Books). They'll be reading and/or completing activities from For the Beauty of the Earth twice a week as well. On Fridays, we'll be doing a science activity from Nature in a Nutshell. This week it was frost crystals (which even the dog enjoyed!):
Catechism / Arithmetic / Latin / Grammar
CLAA memory work continued in these subjects this week and once again, the memory work was a battle. The kids are feeling quite discouraged that they haven't yet passed any exams, but we're making a determined effort to master the material. Currently, they're spending half an hour per day on catechism, half an hour per day on arithmetic (mainly because they already know the material, just not quite well enough), and an hour on grammar. I would imagine that we'll need to increase these times a bit in order to make better progress.
We skipped Singapore Math this week because it somehow slipped my mind entirely (yikes!).
Art and Music Appreciation
For art history this week, the kids read through Lesson 1 - 'Ancient and Early Christian Art' in Art through Faith. While I had a project planned to go with this lesson, the kids ended up making Celtic crosses from clay.
For music, we read the first chapter (Palestrina) from Famous Composers for Young People and listened to portions of Missa Papae Marcelli.
(L) Dominic's Cross, (R) Maddie's Cross
That, in a nutshell, was our week. I must say, I'm impressed with how smoothly school went overall, despite the extra work. Having only two at home is a lot easier than four! Nevertheless, I've already run into a few *issues* with the twins' school that I'm not the least bit pleased about, so we'll see how things go next week. Since state assessments are coming up, the entire focus right now is on teaching for those, which annoys me tremendously. However, I've also been extremely sleep-deprived all week (since I now have to be up early to get kids ready for the bus, ick!), which probably isn't helping my patience any.
6 Comments:
January 22, 2010 at 7:17 PM

 

Oooh, I just love all the books you read this week. And your daughter's clay crosses are beautiful. Sounds like a wonderful week.

I hope next week sees you a bit less tired as everyone settles into a new routine.

January 22, 2010 at 8:12 PM

 

This comment has been removed by a blog administrator.

January 22, 2010 at 10:36 PM

 

Wow! I just love your CM inspired work.

I forgot to add it to my blog, but we also began reading The Story Book of Science this week!

January 23, 2010 at 7:32 AM

 

Their crosses came out so nice! And it looks like you finished a lot of work. Great job!

January 23, 2010 at 8:39 PM

 

What a lovely week - and so many neat resources listed to go check out! Thanks for sharing.

January 24, 2010 at 4:03 PM

 

I love Maria Rioux! Her curriculum is so nice and tidy! I remember stumbling upon it a couple of years ago. Also I love Keller books! I go once a year to the Seton homeschool convention and they are always there. I buy old Vision books from them. It's paradise for a Catholic book lover!

I just love your blog. You do so much with your kids. It's what I would like to do but I find I burn out if I have so much going on and my kids are happier and more receptive if I keep things looser.

Anyway, you are really an inspiration!