I'll begin by summarizing our Valentine's festivities, since I haven't yet posted about them. Nothing went quite according to plan, as usual, so in the end it was a rather quiet weekend-long celebration. We baked sugar cookies (which no one cared to frost later, so they ended up hastily done), raspberry cupcakes from this month's Living (sadly, not very well liked), and candy-coated pretzels. In addition, we had a "candy buffet," cherry and strawberry soda, and an assortment of other festive goodies all weekend long.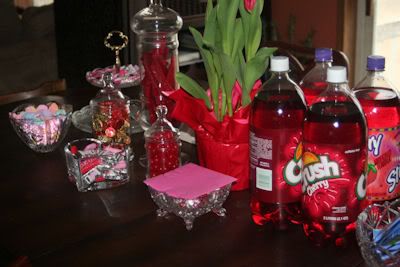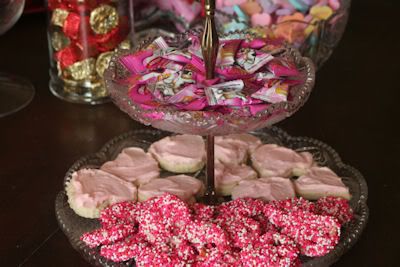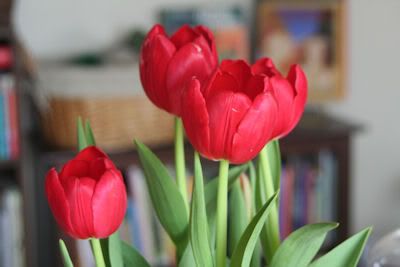 For school, this was a short week due to President's Day, and all in all, a very ordinary sort of week (though Jaymon rejoined us from public school).
Studied Catechism I, Classical Arithmetic and Latin/Grammar daily (they got a bit closer to passing their quizzes and exams).
Math facts work was completed daily, we're still striving for speed and accuracy. I'm trying to sort out the rest of our Math work, though D will continue in Life of Fred Pre-Algebra.
Read aloud daily from Saints for Young Readers for Every Day, Vol. 1.
On Tuesday we read about Shrove Tuesday; Wednesday - Friday we read Lent for Children: A Thought a Day from Family in Feast and Feria.
Continued reading from Augustine Came to Kent.
Read Chapter 2 of Treasure Island by Robert Louis Stevenson; completed discussion questions and activities from this study guide. (Dominic & Jaymon)
Read and discussed Chapter 4 of The Wind in the Willows and had to draw a picture of Mr. Badger's house; researched badger habitats. (Maddie)
History was rather dull this week, we read about Charles Martel, Pepin and Charlemagne from Famous Men of the Middle Ages; the kids continued reading about King Alfred in Our Island Story and read two stories from Britannia.
I continued to read aloud from The Hobbit. I've decided to postpone reading from Pyle's King Arthur until we're finished with The Hobbit.
In Chapter 3 of The Child's Fairy Geography we toured Wales, and also read the applicable pages from This is Britain, finishing the book. Unfortunately, Netflix sent the wrong discs, so we did not get to watch the Wales segment of Visions of Britain and Ireland.
Read The Sisters Grimm Book 6 and (with much sadness) 7, now awaiting the release of Book 8. (Maddie)
We worked on outlining in earnest this week, completing two worksheets per day from an Outling workbook by Remedia Publications.
Suddenly feeling rather anxious about vocabulary or ?, I had the kids complete two lessons from McGuffey's Third Eclectic Reader this week. This isn't to be a long-term solution, but worked well for now.
On Tuesday and Wednesday, we read "Reynard the Fox" from Legends of the Middle Ages. Thursday, we read "The Rose Tree" from English Fairy Tales and "The Story of a Literary Lie" from English Literature for Boys & Girls. Friday, we read about Edmund Spencer and started on "Adventures of the Fair Florimel" from Stories from Old English Poetry.
On Friday, we read Chapters 1 & 2 from Ethics for Young People.
Read about Bach in Famous Composers for Young People; listened to The Story of Bach (Music Masters) CD.
Cello/violin lesson + daily practice (Maddie & Jaymon).
Somehow I forgot to schedule science in this week. To compensate (rather poorly), we started a number of seeds for our medieval herb garden. Yes, it's a bit early, but the warm weather this week made me quite impatient to begin, so hopefully they'll survive until safe to plant. One of these days I'll post in detail about our garden plans, but for now I can say that they were partially inspired by these plans.
For fun, we also started these "Official" Irish Shamrock seeds.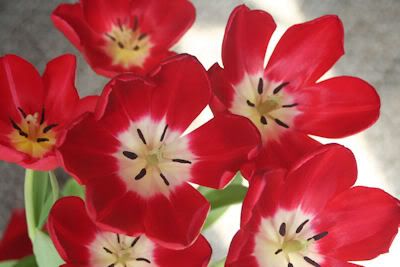 Personal Highlights ~ LOTS of reading for me this week. In fact, I spent all of Monday curled up with books, which I *never* get to do!
5 Comments:
February 19, 2010 at 12:09 PM

 

Wow, your Valentine's spread is making me salivate :)

Shamrock seeds? How cool!

And the amount of reading that you got done (for hs and personally). Amazing!

February 19, 2010 at 2:42 PM

 

Wow, lots of books this week! I'm jealous! I must look to see the ages of your kids! ;-)

Your seeds look fun and the tulips are beautiful! Makes me really want spring to come!! We have huge cabin fever here!

February 19, 2010 at 3:29 PM

 

Beautiful valentines celebration! I'm envious of all that reading time. Congratulations on a busy, productive week.

February 19, 2010 at 4:49 PM

 

Sounds like a wonderful Valentines. Send over those cupcakes. We'll take care of them for you. ;-P

I'm always amazed by how much reading you accomplish in a given week.

February 20, 2010 at 4:19 AM

 

I just saw those Shamrock seeds in a catalogue and was thinking of getting them.

You did get a lot of reading done! I've narrowed my reading for Lent down to just religious reading and right now I'm in the middle of Jesus of Nazareth by Pope BXVI which makes for slow reading. I've got to jot down all these titles tho. They look so interesting!