This past week I've encountered a number of publishers devoted to reprinting classics, including some previously rare or hard-to-find titles. I thought I would share a few of my favorites here!

For Children

Jane Nissen Books (UK)


Jane Nissen Books is an imprint founded by a former Associate Publisher at Penguin Children's Books. "The purpose of this personal venture is to bring back into print some of the best-loved children's books of the 20th century and to enable a new generation of readers to discover for themselves high-quality, timeless titles that should not be lost."
A list of titles and descriptions can be found
here
(*wonderful* selections!). Many of the books are available to US customers via
The Book Depository
, the rest can be found at
Amazon UK
.
"The New York Review Children's Collection began in 2003 in an attempt to reward readers who have long wished for the return of their favorite titles and to introduce those books to a new generation of readers. The line publishes picture books for preschoolers through to chapter books and novels for older children. Praised for their elegant design and sturdy bindings, these books set a new standard for the definition of a "classic." Among the titles you will find
Wee Gillis
, a Caldecott Honor Book by the creators of
The Story of Ferdinand
; Esther Averill's time-honored
Jenny and the Cat Club
series;
The House of Arden
by E. Nesbit, one of J.K. Rowling's favorite writers; several titles by the award-winning team of Ingri and Edgar Parin d'Aulaire, including their
Book of Norse Myths
and
Book of Animals
; James Thurber's
The Thirteen Clocks
and
The Wonderful O
, both with illustrations by Marc Simont..."
"Publisher of fiction from the 1930s, 1940s, 1950s, and 1960s. We have many of your favorite girls fiction books and series - and more to come! Image Cascade publishes heart warming stories of family, love, and timeless values. Our authors have written novels that are rich with nostalgia, true to life social and dating situations, strong families, and, of course, love and romance. This is the cornerstone of Image Cascade. There is something for everyone - tweens to teens, young adults to adults."
Purple House Press
"Our mission is to revive long lost, but well loved children's books. Today's children deserve to read wholesome stories from a simpler time and we know grownups want to revisit with old childhood friends too!"
Fidra Books
(UK)
"We are an independent publishing company specialising in rescuing neglected children's fiction and making it available to a new generation of readers. Our books range from 1940s adventure stories to iconic 1960s fantasy novels, and from pony books by Carnegie medal winning authors to rare boarding school stories from the 1990s."
Fidra Books are available to US customers from
The Book Depository
.
For Mothers
Persephone Books
(UK)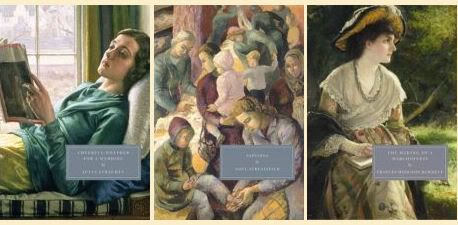 "Persephone prints mainly neglected 20th-century fiction and non-fiction by women, for women and about women. The titles are chosen to appeal to busy women who rarely have time to spend in ever-larger bookshops and who would like to have access to a list of books designed to be neither too literary nor too commercial. The books are guaranteed to be readable, thought-provoking and impossible to forget."
Authors include Noel Streatfield, Frances Hodson Burnett, Dorothy Whipple, and many, many others. (For US customers, these books are most easily acquired from
The Book Depository
)
The Bloomsbury Group
"Bloomsbury Publishing is delighted to bring you The Bloomsbury Group. This is a wonderful new series of lost novels from the early twentieth century, books recommended by readers for readers, being brought back into print for a new audience. Literary bloggers, authors, friends and colleagues have shared their suggestions of cherished books worthy of revival."
Four of the six republished titles are shown above, the two additional titles are:
Henrietta's War
by Joyce Dennys and
Love's Shadow
by Ada Leverson. Available for pre-order at
Amazon
in the US.
Penguin Classics
(UK; Exclusive to Waterstone's Editions)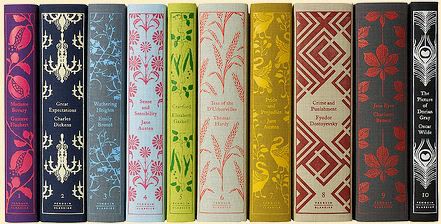 A simply gorgeous line of cloth-bound classics, designed exclusively for
Waterstone's
in the UK. The titles include:
Madame Bovary
,
Great Expectations
,
Wuthering Heights
,
Sense and Sensibility
,
Cranford
,
Tess of the d'Urbervilles
,
Pride and Prejudice
,
Crime and Punishment
,
Jane Eyre
, and
The Picture of Dorian Gray
. Fortunately, the books are now also available at
Amazon
in the US. An interview with the designer, Coralie Bickford-Smith can be found
here
.
1 Comment:
Faith said...

February 5, 2010 at 10:03 AM

 

Wow! What a treasure trove! Lovely, lovely, lovely. The Bloombury books look very intriguing. I noticed that you are reading a Barbara Pym book. I went through an intense Barbary Pym phase a while ago. Love her! Maybe I'll have to revisit her. It has been a while.

I love your blog!