This morning was spent attempting to search out information on Corinne Malvern, an illustrator whom I loved as a child and was just recently re-introduced to. Though she was an incredibly prolific and talented artist, there is sadly little known about her life.
Corinne Malvern was born in Newark, New Jersey in 1905/6 (dates vary). Her mother was Cora L. Malvern of Virgina, born in 1868, and a widow by 1920. Nothing is known about her father.
From a very early age, Corinne and her elder sister Gladys became regulars on the vaudeville circuit and were well-known child actors. In 1908, Corinne appeared on stage in, among other things, "The Man Who Stood Still" at the Circle Theater on Broadway in New York. A New York Times article from the same year praised her "natural, unaffected acting" and notes that, though the plays presented were "grewsome and in parts revolting" she "completely captivated the audience."
By 1910, both Corinne and Gladys were moonlighting in motion pictures as well, and profiled in the series of newspaper articles, "On the Moving Picture Stage: Have You Seen this Face?" More details can be found
here
. The only film that Corinne actually received credit for appearing in is "The Luring Lights" in 1915. In a later interview, Gladys would state that, "[growing up] home to me was anywhere - hotels, trains, boarding houses; for my sister and I were 'stage children.'"
A railroad accident put an end to Corinne's acting career and left her crippled for two years. In the 1920's she attended the Art Students League in New York and then moved to Los Angeles with her mother and sister, studying with
Theodore Lukits
. The 1930 census indicates that, at that time, she was employed as a fashion artist for a millinery studio, while her sister Gladys was a Sales Manager at a department store. Corinne continued her art education in Los Angeles by taking night classes, and occasionally selling her paintings to earn extra money.
By at least 1937, Corinne was back in New York where she shared a studio apartment with her sister and worked as a [freelance?] art editor for
Ladies' Home Journal
(one of her covers is shown on the left), contributing work to other publications as well. In 1939, her first book, co-written with Gladys, was published by McLaughlin. The book was entitled
Brownie, The Little Bear Who Liked People
. In 1942, she illustrated one of the very first Little Golden Books,
Nursery Songs
.
During the 1940's, Corinne worked as an illustrator for
Ginn Readers
, in particular, their
Faith and Freedom
series, while also continuing to illustrate books for both McLaughlin and Random House. This she continued throughout the 1940's - 50's, and when her sister began publishing novels, she illustrated those as well.
Frosty the Snow Man
(1951),
Twas the Night Before Christ
mas (1949),
Doctor Dan the Bandage Man
(1951) and
Nurse Nancy
(1958) were among her most popular Golden Books; only these last two have been re-printed in recent years. (Am I the only one who would love to see a Corinne Malvern anthology?! Surely not!)
A 1953 biography notes that "she divides her time between New York and Connecticut, where she indulges in her favorite hobby of gardening." Corinne Malvern passed away at a Weston, Connecticut convalescent home at the age of 50, on November 9, 1956. She was survived by her sister Gladys.
The Happy Family
, 1955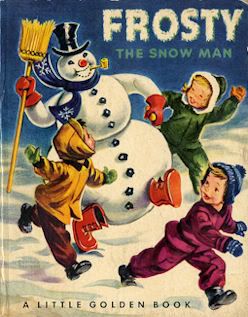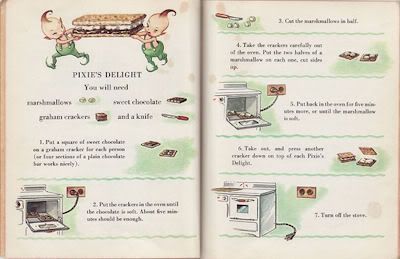 Susie's New Stove, The Little Chef's Cookbook
, 1950
Gladys A. Malvern was born in 1900-1903 (again, dates vary) in Newark, New Jersey. After ending her stage career at the age of twenty-one, she worked in a variety of positions ranging from advertising manager and radio script writer to producer of fashion shows. In the late 1930s, she began writing and publishing books, eventually starting the series of historic romance novels for teenage girls which garnered her greatest success (and are currently enjoying a resurgence in popularity among homeschoolers). Her novel,
Valiant Minstrel: The Story of Sir Henry Lauder
won the 1943 Julia Ellsworth Ford Foundation Award. A mostly complete bibliography, including downloads of eighteen of her books, can be found
here
. Gladys Malvern died in Weston, Connecticut on November 16, 1962.
6 Comments:
August 19, 2010 at 3:48 PM

 

One minor correction: the Theodore Lukits school was in Los Angeles, not New York.

August 19, 2010 at 4:07 PM

 

Thank you, you're absolutely correct! I've fixed the post.

January 18, 2011 at 12:05 PM

 

Thanks for this batch of information! I am working on writing an introduction to the reprinted edition of Gladys' novel "Behold Your Queen!" which we hope to have released in the spring.

Can I ask where you got your information? It's hard to find anything on Gladys!

January 18, 2011 at 12:21 PM

 

Susania ~ I wish I'd kept better notes on my sources, but unfortunately I didn't. I can tell you that I spent quite a bit of time searching Google Books + news archives for any mention of the Malvern sisters & slowly pieced things together that way. Many times only a preview or excerpt of a book is available, I was able to track down some of those sources later & others had all the info I needed within the excerpt.

One such book I ended up purchasing was "The Junior Book of Authors" by Stanley Kunitz & Howard Haycraft (1951). It has a fairly decent bio of Gladys. I'd be happy to scan it for you if you're interested. I think I've also got another book around here with some notes on her, but couldn't find it just now...I'll keep looking for that.

February 13, 2011 at 9:19 PM

 

that would be enormously helpful! any relevant info you can scan in on her would be a great help. We're looking at doing most of Gladys' other books and would welcome more author info to include...

March 11, 2011 at 1:21 AM

 

Some of this information now has sources listed on the Wikipedia entry for Gladys Malvern
http://en.wikipedia.org/wiki/Gladys_Malvern