Recently Maddie and I decided that we needed a fairy house, so we began to do some research. Many years ago I came quite close to ordering from the now defunct Toad Hollow Farms, makers of these fabulous Tree Stump Homes:


Oh how I wish I had (note the stained glass windows)! Their site can still be viewed
here
, thanks to the magic of the
Internet Archive
, and they remain a great source of inspiration to us. We also discovered artist John Curtis Crawford's
Fairy Woodland
("Fine Handcrafted Homes for Discriminating Fairy Folk"). In particular, Maddie was drawn to this house, though she thought it a little austere:
Most importantly, she'd like something delicate enough to please the fairies, yet sturdy enough to play with. We discovered that there's a
Fairy House
book series, by author Tracy Kane, as well as a Fairy Houses Weekend in Portsmouth, NH (check out the photos in this
Fairyland Set on Flickr
). There is even a Squidoo lens on
Fairy Houses
. Here, we found instructions on how to build our own fairy house:
Oh my goodness, and there's this (found
here
):
Then, of course, there's the matter of furnishing our fairy house. Maddie loved this furniture from
Forest Whimsy
: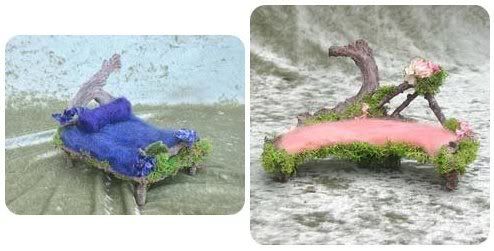 We were also
greatly
inspired by the designs at this Japanese
nut craft site
(perfect for a fairy kitchen!):
And we're in love with these fairy rooms, from
Twig Wizardry
(click on the photos to enlarge):
So, now begins the work of collecting materials and determining how best to build our house. Maddie thinks perhaps we ought to buy a house and
then
create our own, since it will likely take awhile to collect the needed materials (and she
does
have a birthday coming up). She envisions an entire fairy village one day. We also have a
dollhouse
cottage, waiting to be assembled, so we may opt to re-work that into something magical, but we're carefully weighing our options.
As for the fairy folk themselves, she's anxious to create them, too. She enjoys making these flower fairies from
Felt Wee Folk
, which ought to be just right:
All in all, it ought to be the perfect Spring project!
0 Comments: