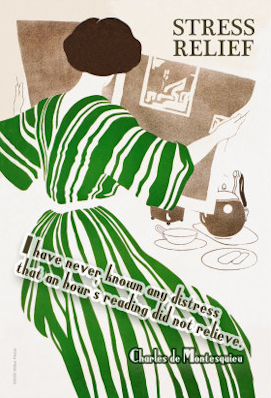 Despite the fact that I'm currently reading a whopping five books at present, I recently felt the need to find some good new fiction, since all of my current reads are non-fiction. First, I browsed the catalogs at both
Persephone Books
and
Virago Press
for inspiration (this
Virago Collection Tracker
spreadsheet from
LibraryThing
members was also enormously helpful). Then, because I primarily wanted eBooks for my Kindle and Nook, I searched the Web to find out which books were also available in the public domain.
Unfortunately, I also ended up ordering a stack of books from both Amazon (
At Mrs. Lippincote's
,
Consequences
,
Gone to Earth
,
The Edwardians
,
Mariana
, and
Nella Last's three WWII diaries
) and Amazon UK (
Miss Buncle's Book
,
Few Eggs and No Oranges
,
The Carlyles at Home
,
Lady Rose and Mrs. Memmary
)! My husband will
not
be pleased.
Any of the Google Books/ePub files below can be converted to Kindle-compatible .Mobi files using the quick, easy and
free
eBook management software from
Calibre
.
Persephone Books
Virago Modern Classics
Other
*To borrow only, from
Open Library
5 Comments:
January 6, 2011 at 9:07 AM

 

This is a wonderful list! Thanks for sharing it!

January 25, 2011 at 5:03 AM

 

This is brilliant, thank you so much! Just think of all the money and shelf space you've saved us -- not to mention those telltale Amazon boxes that I, at least, try to hide from my husband...

January 28, 2011 at 1:47 PM

 

thanks so much for this list and your hard work in preparing it

February 26, 2011 at 2:49 PM

 

Wow, thank you so much! This page is getting bookmarked. :)

February 26, 2011 at 9:47 PM

 

Fantastic list! Just what I need. :)

By the way, Burnett's The Shuttle is also available at Girlebooks.com. There are several on that website that I think would be of interest to Persephone/Virago aficionados.