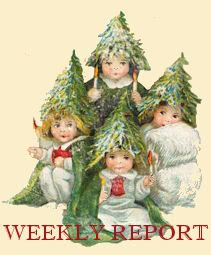 This week was so ridiculously chaotic and stressful, it was a challenge to get any school work done, but we muddled our way through. I've been extra busy with work, last minute Christmas shopping, preparing for upcoming sacraments, and getting paperwork together for D's school next year (he'll be going to an excellent Catholic high school, hooray!). I haven't even started thinking about what I'll be serving for Christmas yet (we're hosting this year), and we've done almost nothing for Advent, yikes!
This week's report will primarily focus on history, since that has been the most interesting subject these days. ;-)
History
James Fort Play Set
The theme for history this week was colonial homes. I had hoped to order a
log cabin kit
from
Rustic Replicas
that we could create period-appropriate furnishings for, but with Christmas looming and my budget maxed out, that didn't happen. I will most likely use Christmas money to purchase this for January because I think it would be fun to use over our next year of history.
In our textbook, From Sea to Shining Sea, we read p. 106-115 about religious liberty in the New World.
The kids read 3 chapters from Eating the Plates: A Pilgrim Book of Food and Manners. M finds this book fascinating, while J despises it.
The kids read one chapter from Written in Bone: Buried Lives of Jamestown and Colonial Maryland.
The kids finished reading Blood on the River: Jamestown 1607. J, who generally dislikes reading anything other than manga, loved this book, while M thought it was "okay."
From our Time Travelers Colonial Life study, we read three lessons on the colonial home. The kids created the projects shown below, as well as their own classified ads for items typically found in a Colonial home or on a farm. The straw tick mattress and rope bed projects were the most trying, by far, though they were very pleased with how their hand-stitched mattresses turned out. We also watched this video on how to tighten a rope bed and learned about the origin of the expression "Sleep Tight."
Daily copywork from the Bible and George Washington's Rules of Civility and Decent Behaviour In Company and Conversation, part of the

Time Travelers: Colonial Life

unit.
The kids read Colonial Home and Tools and Gadgets by Bobbie Kalman.
We played a game, "Homestead Inside/Outside" from Colonial America Cooperative Learning Activities.
Time Travelers: Houses of Early Settlers Pop-Up Comparison
Time Travelers: What Would You Find on a Colonial Farm?
Time Travelers: Straw Tick Mattress & Rope Bed
A Colonial Christmas:
This week we started a mini-unit on Christmas in colonial times. I am using bits and pieces of this unit study:
Celebrate Christmas in Colonial America
(though it's
not
very well organized, nor is it overly helpful), as well as my own material.
We read Alice Morse Earle's description of Colonial Christmases from Christmas: Its Origin, Celebration and Significance As Related In Prose and Verse by Robert Haven Schauffler.
We also began working our way through "The History of Christmas" by Rumer Godden, from The Reader's Digest Book of Christmas.
The kids filled out a Graphic Organizer: Christmas Then and Now from Colonial Williamsburg's website.
We reviewed George Washington's Christmas list for his stepchildren in 1759: "A bird on Bellows, A Cuckoo, A turnabout parrot, A Grocers Shop, An Aviary, A Prussian Dragoon, A Man Smoakg, , A Tunbridge Tea Sett, 3 Neat Tunbridge Toys, A Neat Book fash Tea Chest, A box best Household Stuff, A straw Patch box w. a Glass, A neat dress'd Wax Baby."
We tried our hand at colonial-style Christmas decorations, using greenery, pine cones, and fresh fruit accents. However, I got frustrated with this pretty quickly, so we gave up (and now have LOTS of fresh fruit and greenery laying around!). We also learned about the significance of the pineapple in colonial times.
We started a new read aloud, The Christmas Surprise by Ruth Nulton Moore. The book is set in the Moravian community of Bethlehem, PA during the French and Indian War (in 1755). While this is jumping ahead a bit in history, I chose the book for its Christmasy theme.

Bethlehem was founded in 1457 by a small group of Moravians. They represented what is now recognized as the oldest organized Protestant denomination in the world, the Unitas Fratrum, or Unity of the Brethren, founded in 1457 by followers of John Hus, a Roman Catholic priest who had tried to reform the Catholic Church. Hus was burned at the stake for his beliefs a full 100 years before Martin Luther's Reformation. His followers called themselves Moravians because many of the original founders came from the provinces of Moravia and Bohemia in central Europe, in what is now the Czech Republic. (Source)
Other projects included: Dried Apple Ring Garlands (we burnt them!), Dried Fruit Ornaments (um, also burnt) and Scented Cinnamon Applesauce Ornaments. These largely have nothing to do with colonial times, they were just fun to make.
I made Wassail and Moravian Christmas Cookies.
If I'm feeling ambitious enough this weekend, we'll be making Moravian Stars (a not-so-simple paper craft) and Moravian Love Feast Buns.
Music: Lost Music of Early America: Music of the Moravians, A Colonial Christmas by Early Music New York and Wassail! Wassail! Early American Christmas Music by the Revel Players.
Science
We had
no
time for science this week, but I did hear something very cool on NPR today that I plan to try in the (near) future.
Here
is a video that shows you how to grow your own snow crystals and
here
is a video on the "secrets of snowflakes." These would be perfect to go along with the book
Snowflake Bentley
, which is based on the life of
William Bentley
(his official website is
here
).
Personal Notes
This past week, I became the proud owner of both a NookColor and a Kindle (Christmas presents from DH, who despairs that books have taken over our house!). On my Nook, I've read
Life and Death in a Venetian Convent: The Chronicle and Necrology of Corpus Domini, 1395-1436, which was interesting, though not all I'd hoped for. Also, the 1890 classic How the Other Half Lives (Studies Among the Tenements of New York) by Jacob Riis (very good!). I am currently reading Signs of Life: 40 Catholic Customs and Their Biblical Roots by Scott Hahn.

On my Kindle, I am nearly finished with the utterly fascinating, The Arsenic Century: How Victorian Britain was Poisoned at Home, Work, and Play (the chapters on the Victorian obsession with Scheele's Green were especially interesting!). Next, I hope to start on The Library at Night.
Shades of Scheele's Green
2 Comments:
Faith said...

December 12, 2010 at 4:29 AM

 

I wish I could get my son to be interested in history. My dd is. She loves projects, but I don't think I focus on project enough because I don't want to see the sneer my son will give! And these two always do everything together. I gotta rethink this. I always love all your resources. I've been in such a Victorian mood, Arsenic Century sounds fascinating! You've got a Nook and a Kindle. I must go and tell my dh right now! I've only got a Kindle! LOL!

Advent is all about preparation. Sound like you are doing a lot! Happy Gaudete Sunday!

Tanya said...

December 21, 2010 at 10:38 PM

 

Great blog! I was looking up info on an original copy of Lovejoy's Nature in Verse I'm looking to sell & it came up ~ lucky me ;). Thank you for the great resources & lovely imagery!