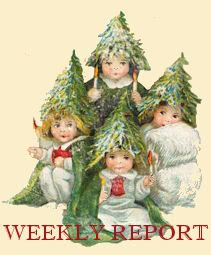 This week went nothing like I'd planned! I realized halfway through the week that I'd forgotten to post our Week Three Advent plans (for this week). In the end, that's probably a good thing, because we didn't get much accomplished. The feasts of Our Lady of Guadalupe and
Santa Lucia
kept me
very
busy last weekend, so by Monday I was ready for a more relaxed schedule.
On Monday, we read
Per and the Dala Horse
and
The Tomten
. I had planned that we would make tomten ornaments, bake cookies in traditional Swedish shapes and paint
Dala horses
, but we only managed to start painting the Dalas because *I* got terribly sidetracked and had Elon cut out a bunch of little gnomes/tomtes with the scroll saw to paint.
On Tuesday, I had an appointment for a hair cut that ended up taking nearly the entire day. Yikes. However, I got all of my hair chopped off and am *thrilled* with my new super short cut. I've almost always had fairly short hair, but had let it grow out two years ago when I got re-married. It's been driving me crazy pretty much ever since so I was very ready for a change!
On Wednesday, the kids studied their
CLAA
material and we read
The Night of Los Posadas
by Tomie dePaola. I had to finalize my Christmas Day menu, since we'll be having family at our house this year, and we also planned our Christmas baking.
On Thursday, the twins helped out at the Salvation Army toy distribution all day and had a blast (they're hoping to help out at a soup kitchen next week). An added bonus was that they made the evening news. :-)
And that brings us to today, which is our annual Christmas baking day. Honestly this week has gone by so quickly, I hardly feel prepared, but here's what we'll be making today (and probably tomorrow as well):
Gingerbread Men
Sugar Cookies
Suffice it to say, I think we're on Christmas break since very little school work got done this week! This weekend we've got tons of craft projects to get done as well, things that we didn't get to previously, so I'll be posting those as we get through them.
One last note ~ we ended up with two copies of
Per and the Dala Horse
by Rebecca Hickox, because I forgot that I'd ordered a used copy on Amazon, and purchased a copy while in Lindsborg. If anyone would like the extra (new) copy, please leave a comment & on Monday we'll randomly pick someone to send it to. It's really a very beautiful little book!
7 Comments:
December 18, 2009 at 9:02 AM

 

Wow, sounds like a wonderful week. I love all the holiday activities. I want to see a picture of your hair cut!!

December 18, 2009 at 10:24 AM

 

Not just on the news, ON the news! Wow!

Everything sounds wonderful and your son handled himself well before the camera ;)

Merry Christmas!

December 18, 2009 at 10:28 AM

 

That gnome is so cool!
I want one!

December 18, 2009 at 12:28 PM

 

Stumbled across your blog and had to tell you I love the gnome houses! They are amazing and my 9 year old son said over my shoulder, :Wow, he must be talented"

December 18, 2009 at 3:38 PM

 

The gnome houses are awesome. That looks like something my son would enjoy.

December 18, 2009 at 9:57 PM

 

Sounds productive to me! Looks like you had an enjoyable week.

December 20, 2009 at 10:44 PM