[Me] At Oma's house for Baking Day, many moons ago
Baking Day is a Christmas tradition in our household ~ the one tradition I've faithfully maintained since the children were wee babes. Unfortunately this year, as with virtually everything else I've tried to plan lately, it did
not
go quite right.
Our first recipe was for
salt caramels
. Elon took over this recipe at the last minute, neglected to watch the temperature carefully, and we ended up with hard
butterscotch
candy. Fortunately, the kids *love* butterscotch so this wasn't a total loss!
The next few recipes we attempted were all from
Martha Stewart Cookies
:
Cocoa Shortbread Diamonds
,
Cranberry Noels
and
Cream Cheese Walnut Cookies
. All three resulted in extremely dry crumbly dough - so crumbly that it was virtually unworkable. This is a problem that I've never experienced before and I'm still puzzled by it! I added a bit of milk to each and stuck them in the fridge to chill, though I'm nervous to see what will happen when I try to roll them out and/or bake them.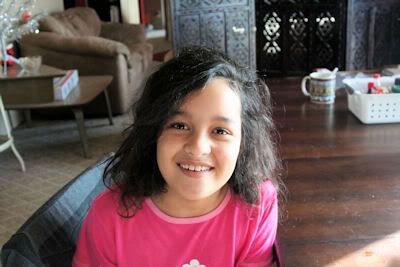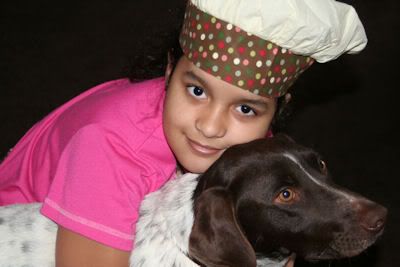 Maddie & Emma are excited to start baking :-)
Next, we mixed up some
Nice 'n Soft Sugar Cookie
dough and had the same stupidly dry dough issue. At this point I was feeling pretty frustrated, but luckily we had some success with another recipe:
Cranberry and White Chocolate cookies
. We also mixed up some gingerbread dough, which is currently chilling.
Emma keeps an eye on the kitchen (and Mocha)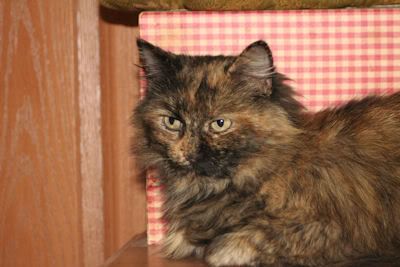 Mocha keeps an eye on
everything
So...our baking day evolved into two days of very little
actual
baking. I still have a counter piled high with cookie and candy making supplies, so I'll have to find some additional recipes to try after work today, hopefully with better luck. We still have truffles to make and, of course, a fridge full of dough that I'll need to deal with sooner or later.
We did take a break on Saturday afternoon to assemble the gingerbread house we'd purchased:
However, we never managed to get to any of the other Christmas craft projects I'd planned. I have a basket full of new craft supplies, just waiting for some attention.
Sigh.
I suppose there's always tomorrow...
1 Comment:
Our Westmoreland School said...

December 21, 2009 at 1:32 PM

 

My oma used to have a Christmas tea :) We weren't allowed to do the cooking, but I have so many beautiful memories of her.

We've covered the craft front, but have not baked a single cookie (ack!). Maybe we should just trade off ;)