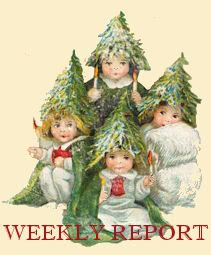 Another week has been completed and eagerly I continue to look ahead, still prayerfully hoping for 'smoother sailing' with our school work.
First, our
new schedule
was fairly successful. Ironically, *
I*
struggled with it more than anybody! Dominic and Jaymon began waking up at 5 AM each morning, and then waking me up. This meant that I didn't get enough sleep all week, and woke up
sick
yesterday. Hopefully next week will go a bit more easily.
We had another fairly light week of school, but I think I've come to terms with the fact that until the Advent and Christmas seasons are over, that's
okay
. Everyone started on a new concept in Math this week, which kept us fairly busy and stressed out. We began our study of the Church in the Early Middle Ages (briefly reviewing what we'd learned about the
Desert Fathers
), learning about the organization of the church and it's vital role in Medieval Europe. We discussed how worship of God and honor of the saints provided a framework for much of medieval life, the rhythms of the year being closely tied to the liturgical calendar. Some good information on the Medieval liturgical year can be found
here
and, more briefly,
here
. We continued reading
An Introduction to the Liturgical Year
by Inos Biffi (a preview can be found
here
).
We also started reading St. Benedict: Hero of the Hills by Mary Fabyann Windeatt and Life in a Medieval Abbey by Tony McAleavy (a wonderful and very thorough book!). We learned a little about the Liturgy of the Hours, which St. Benedict helped to organize, and the Rule of St. Benedict. The summation of his rule, and the motto of the Order of St. Benedict, is "Ora et Labora" - "Pray and Work." I particularly liked this explanation from the Monastery of the Holy Spirit:
"Benedict was following earlier monastic rules of life when he legislated a lifestyle balancing liturgical prayer, private prayer, study of Scripture, and manual labor, with equal time per day allotted to each activity. The insistence upon manual labor as an intrinsic part of the life had three main sources. First, work is an ascetical exercise: it expels idleness. Second, it recognizes an obligation toward neighbor: the monk should not be a burden on others, and he should also give alms to the needy. Finally, earning one's own living while in the service of the Lord follows the examples of the apostles. All three reasons are integral to the prime concern of seeking God. Ideally, while working, monks continue to pray, meditating upon the lectio and the Divine Office, thus exemplifying the goal of Ora et labora."

We will be learning more about the Rule of St. Benedict as we continue our study of the early Church and monasticism in the weeks to come.
This week the first few supplies for the kids' electives showed up. Elon received his Snap Circuits Extreme Version ~ SC-750 and Dominic received his Bamboo Pen & Touch tablet. Jaymon also received a demo CD of Rosetta Stone, which he and Dominic will be using (along with other resources) to study Japanese. In addition, I ordered the complete set of drawing books for them from Manga University, which I expect to arrive today or tomorrow. I've been allowing Dominic some time to experiment with his tablet and Photoshop, and Elon has already gone through numerous Snap Circuits projects - despite my repeated requests that he just hold on. Poor Maddie is still waiting for me to decide on a suitable drawing/fine arts program for her, though I'm finally closer to a decision. I received a new Seton catalog this past week and the Ginger Himes Art Series looks quite tempting (Atelier is another possibility).
I've made a few additional modifications to our curriculum for the year, to compensate for those things which simply have not worked for us. I'll be detailing these changes in a later post, but most notably, I've added online classes with the Classical Liberal Arts Academy. The kids will each be taking Classical Catechism I, Classical Grammar I (which includes Latin) and Classical Arithmetic (in fact, three of them are studying their arithmetic, with much enthusiasm, now!), while I will be taking a Praeceptor I training class. I've spent hours reading through every single article and post on the CLAA website and Online Family Forum and am both thrilled and honored to be a part of such a wonderful school. While I know the work will be a challenge, it is a challenge that I look forward to!
For Advent, we had a very nice Feast of St. Nicholas ~ the chocolate-dipped candy cane stir sticks were especially popular, though they were eaten as candy more often than they were used to stir cocoa!


For the Feast of St. Ambrose, the children enjoyed decorating candles:


I decided not to make any honey cake, since we still had *plenty* of baked goods left over from our St. Nicholas Day celebration.
On Tuesday, we celebrated the Solemnity of the Immaculate Conception. My lily cupcakes left a lot to be desired (I was exhausted when I baked them), but were quite delicious.


On Wednesday, we were supposed to read The Legend of the Candy Cane, and make our own candy canes. Instead, we read about the Star of Bethlehem and made window stars (which are tricky to photograph!). We'll be having our 'candy cane day' sometime next week.


Lastly, while we read and learned about Christmas oranges, the children *ate* their oranges before we had a chance to make pomanders. Sigh.
This weekend promises to be VERY busy with the
Feast of Our Lady of Guadalupe
(+ National Poinsettia Day) and the
Feast of St. Lucy
. I just hope I'm feeling better so that I can manage everything!
4 Comments:
December 11, 2009 at 11:41 AM

 

Wow, I love your liturgical holidays (correct word for that??). There is just something so wonderful about focusing your mind and heart on eternal things through the rhythm of days. Love it.

Beautiful crafts.

December 11, 2009 at 12:02 PM

 

Wow, everything looks so beautiful! The candles, the candies, the cupcakes, really it's all so nice!

Thank you for sharing these things. I feel a little more motivated to stop scraping the surface and start digging deeper.

December 11, 2009 at 12:38 PM

 

Kristine ~ What a lovely blog!!! I hope you feel better soon so you can enjoy the rest of this beautiful Christmas season! Thanks for sharing your blog today ~ it really is beautiful!

December 11, 2009 at 1:03 PM

 

Wow, I just committed the sin of envy reading your blog! You didn't know you were an occasion of sin, did you???? But really, I wish I had it so together to live out the liturgical year in such a gentle focused way. I'm usually, "Oh yeah kids! It's St. Nick's day, remember that video we watched about him that one time . . . .

We also do Jewish holidays too since my dh is Jewish so I do have to work them in as well. It just gets overwhelming for me. I am not artsy craftsy at all.

Anyway, I admire you! Thanks for sharing!