This is our first weekly report in awhile because for the past two months the kids have been doing much of their work independently. I got very busy with my job, but also needed to take some time away from our more teacher-intensive work to rest, reevaluate and recharge. Happily, the kids did really well during this time, though they missed the hands-on activities and read-alouds. Now, we're back to "school as usual," or at least, doing as much as is possible during this oh-so-busy time of year.
Religion
We continued reading daily from Saints for Young Readers, Vol. 2.
This week, we resumed memory work from the St. Joseph's Baltimore Catechism and are still on the first part of Lesson 2.
The kids are also now taking religious education classes at the parish school twice a week in preparation for the sacraments of First Reconciliation (Confession) and First Eucharist (Communion).
History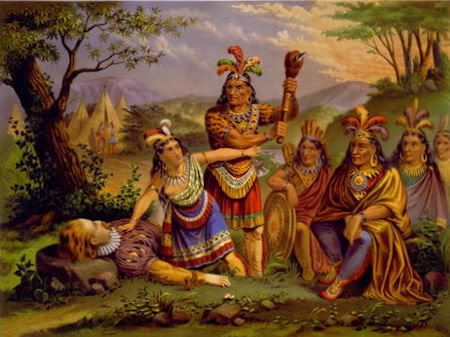 In our textbook, From Sea to Shining Sea, we read pages 99-105 about the founding of Jamestown, Captain John Smith and Pocahontas.
The kids had fun studying a reproduction of Captain John Smith's Map of Virginia. This led to an impromptu discussion and examination of other 16th-17th century maps in The Atlas of Atlases: The Map Maker's Vision of the World.
The kids read the first chapter of both Written in Bone: Buried Lives of Jamestown and Colonial Maryland and Eating the Plates: A Pilgrim Book of Food and Manners.
I read aloud 20 pages per day from Stories of the Pilgrims (available for free here).
The kids read 20 pages per day from Blood on the River: Jamestown, 1607.
We watched the following DVDs: NOVA: Pocahontas Revealed, The New World and Beyond the Movie: The New World: Nightmare in Jamestown.
The kids learned a little about their 11th Great Grandfather, William Dawson, who arrived at Jamestown as an indentured servant via the Discovery in 1621.
From History Pockets: Colonial America, the kids completed a notebooking page on Pocahontas, a John Smith mini-book and a map of Jamestown mini-book.
From Time Travelers: American Revolution, the kids completed a 3-D replica of Jamestown.
From Colonial America: Cooperative Learning Activities, the kids did a cut, color and paste model of a ship and created a "shopping list for the New World." After creating their shopping list, they selected a Wilderness Condition Card to compare to their list, to see if they brought everything needed.
On Tuesday, we watched a webcast from Plimoth Plantation (which we'll be studying next week), though we mysteriously lost our live feed about halfway through.
We sampled a number of recipes from my new favorite cookbook, Holiday Fare: Favorite Williamsburg Recipes. One of my favorites was a creamy peanut soup (recipe here), garnished with lardoons (thin strips of Virginia ham, fried in butter) and whole berry cranberry sauce. Apparently peanut soup was quite popular in colonial times. According to this, colonists planted peanuts as fodder for pigs, and their slaves used the peanut to make peanut pie and peanut soup. This is an interesting article on colonial cuisine.

Links:
Language Arts
This week we set aside our Seton readers and workbooks to try something different. M began reading

I, Coriander

and J began reading

Brendon Chase

; they will be doing a

report

upon completion of the books. M also began reading

Little Women

.

For vocabulary, the kids completed one lesson per day (M-Th) from Vocabulary 5 for Young Catholics.

In Voyages in English, the kids started a unit on adjectives and completed one lesson per day.

Daily copywork from the Bible and George Washington's

Rules of Civility and Decent Behaviour In Company and Conversation

, part of the

Time Travelers: Colonial Life

unit.

For composition, we studied sentence writing (primarily, ways of making sentences interesting) and the kids completed several exercises from Alhambra Denning's

Methods and Material for Composition

. I also had them record examples of interesting sentences that they encountered in their reading and we discussed these.
Science
We began a study of Galileo Galilei (1564-1642). The kids read one chapter per day from
Along Came Galileo
. I had planned to include a few experiments from
Galileo for Kids
, but we ran out of time. Hopefully we'll get to those this weekend.

Math
One lesson per day from their Singapore books.


Unfortunately, we didn't quite get to everything I had planned this week, but it was still an incredibly full and *busy* week!
4 Comments:
November 19, 2010 at 5:16 PM

 

Great stuff you've been doing! I like the idea of having the kinds record examples of interesting sentences. Written in Bone sounds intriguing! We enjoyed Eating the Plates.
Lee

November 19, 2010 at 6:20 PM

 

A sacrament year! How exciting!

Thanks for the Jamestown links. I've marked some for when we get to American history in two years LOL

November 20, 2010 at 3:52 PM

 

Wow, you are such a treasure trove of resources. I love it!

Thanks for all your great links!

November 21, 2010 at 6:50 PM

 

I love your blog! You are studying many of the same things we're doing this year. I had not seen the Written in Bone book before; I'll have to look for it, thanks!

Regena