Week four is done and it has been another tumultuous week. For the past month or so, J has been waging a campaign to return to public school. This week he was especially difficult, causing quite a lot of drama and disruption. Ultimately I will probably let him go back to school, since I let his brothers return, I can't very well justify keeping him home (especially when he's determined to make us all miserable about it!). However, I really hate giving in when he's been behaving so poorly.

His reasons for wanting to go to middle school are mostly social - he misses his friends and is jealous that his brothers are at the school while he is not. He also feels that I assign too much work and work that is too hard (ridiculous!). However, he did return for part of last year and quickly returned home, hence my hesitation in allowing him to go back. This back and forth nonsense is tiring and really doesn't benefit anyone. Meanwhile, M has no desire to return to school and really loves homeschooling -- something that aggravates her brothers to no end!
Morning Basket
This was our first week to utilize a
morning basket
, a lovely idea I borrowed from Jen at
Wilflowers and Marbles
. I'll be writing more about this later, but this week our work included the catechism/liturgical work below, reading from
Nature in Verse
by Mary Isabella Lovejoy and a
picture study/comparison
of "The Gleaner" by Jules Breton and "The Gleaners" by Jean-François Millet.
Religion
Each day began with a reading from Saints for Young Readers, Vol. 2, followed by lesson work from St. Joseph's Baltimore Catechism No. 2. This week, the kids were still on Lesson 1...M mastered it two weeks ago, but J is still struggling with the memorization which is not something he enjoys! Next week we will be moving on to Lesson 2.
Nearly every morning I read a little from Our Lady's Book by Lauren Ford.
On Wednesday, we celebrated the Birth of the Blessed Virgin Mary with vanilla birthday cupcakes. We read that, "The birth of Our Lady was like a dawn. When the sky starts to turn a rosy pink early in the morning, we know the sun will soon come up. In the same way, when Mary was born, she brought great happiness to the world. Her birth meant that soon Jesus, the Sun of justice, would appear." For this reason, M thought that the cupcakes we made ought to have pink frosting - "just like the rosy dawn."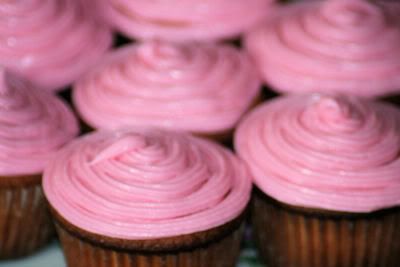 Language Arts
Handwriting: Two worksheets per day (M-Th).
Spelling: One lesson per day (M-W) from Word Power Through Spelling, spelling pre-test Thursday and final test Friday.
Vocabulary: One lesson per day (M-Th) from Vocabulary 5 for Young Catholics.
Grammar: One lesson per day from Voyages in English and one lesson per day from Vital English [Composition-Grammar], Intermediate.
Reading: Two lessons from This Is Our Heritage (6th) and These Are Our People (5th), two lessons from Reading 5/6 for Young Catholics, Comprehension Skills and one lesson each from Reading 5/6 for Young Catholics, Thinking Skills.
History
History has been a bit dry these past two weeks because we've been moving through our material at a breakneck speed, thus leaving no time for the fun extras. In quick succession, we've studied:
Alfred the Great
William the Conqueror and the Battle of Hastings
The Bayeaux Tapestry
Henry II and Eleanor of Aquitane
King John and the Magna Carta
Richard the Lionheart
Knights
Every day there is some reading, followed by discussion and a worksheet. I've learned that having to do a worksheet encourages the kids to read more
carefully
.
It seems that, thanks to my decision to pick up the pace in history, we've already abandoned our read-aloud, Adam of the Road. This wasn't intentional; I'll need to re-visit our read aloud schedule this weekend to make some adjustments.
Math

This week we continued to review basic math facts - especially multiplication and division. Next week we'll be diving into our new Singapore books (finally!).

Friday Fine Arts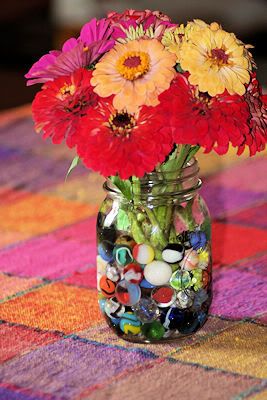 This week we celebrated our first
Friday Fine Arts "Fiesta"
, beginning our study of Diego Rivera and Frida Kahlo. Because Amazon took their own sweet time delivering our books (they arrived on Thursday), my planning time was minimal. Fortunately, one of the books,
Frida Kahlo and Diego Rivera: Their Lives and Ideas, 24 Activities
by Carol Sabbeth was all I really needed. It is an
awesome
resource, perfectly suited to our semester-long artist study. The biographical information is excellent and every single one of the activities is really good (unlike many similar activity books where half are unusable).
We read the first eleven pages, learning about the childhood of Diego Rivera and the influence of artist Jose Guadalupe Posada. We examined Diego Rivera's mural, "
The Making of a Fresco Showing the Building of a City
..."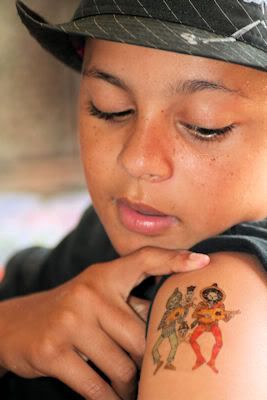 I had planned to make
Sugared Fritters
, but then realized these
Cinnamon Sugar Tortilla Crisps
were much quicker and easier! Unfortunately, they were a little too well done, but they were still pretty good.
Our art project for the day was
Jose Posada
-inspired printmaking. I had wanted to do it
this way
, but didn't get the scratchboard in time, so we had to follow the alternate instructions (using styrofoam plates) in
Frida Kahlo and Diego Rivera: Their Lives and Ideas, 24 Activities
. The results weren't that great, probably because we used Crayola markers rather than the permanent markers suggested in the book, but everyone had fun regardless.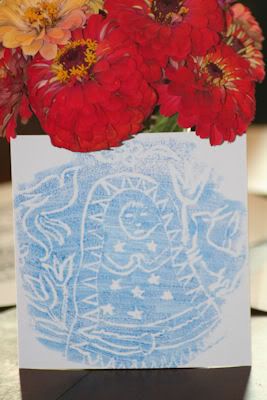 While working on our art project, we listened to the lively music of Los Lobos, "
La Pistola y El Corazon
" - the kids very much enjoyed this CD!
We did not begin our Pablo Neruda poetry study yet because I was
not
expecting the books I'd purchased about him to be chapter books (yikes!). Clearly I need to pay more attention next time I'm ordering resources! I'll be determining our schedule for those books this weekend.
Handwork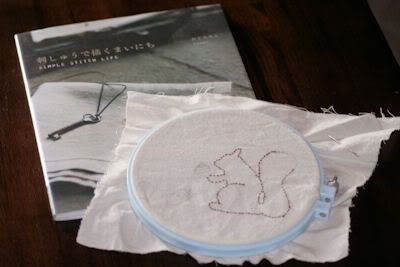 Handwork was another new addition to our schedule this week. M has been begging me to teach her how to sew for the past year and after reading through some of
Soule Mama's
sewing posts
last weekend, I was in a serious sewing mood myself. We have
Sewing with Saint Anne
, but I also have a huge stash of
Japanese craft books
which looked far more tempting!
Until I can get myself organized, I decided to start her out with some simple embroidery. I found a squirrel pattern in
Simple Stitch Life
that she happily practiced on plain muslin. I'm thinking that our first actual sewing project will come from
Linen, Wool, Cotton
and then we can ease into the Japanese books. M's already picked out some adorable
Heidi Kenney fabric
while I've got my eye on this gorgeous
Kokka linen
.
5 Comments:
September 11, 2010 at 11:33 AM

 

I love the term "Morning Basket" -- I hope you post more about it! And the embroidered squirrel is darling. My 9mo dd loves watching the squirrels out the window! I hope J has a better week next week!
Lee (5wolfcubs)

September 11, 2010 at 3:10 PM

 

I love the Friday Fine Arts Fiesta! It looks like you had a lot of fun - can you share the recipe for your cinnamon sugar treats? That looks like something we might enjoy while we are reading in the winter afternoons. I do love the term "Morning Basket" as well - are these the activities you do to start each day or is it more student specific than that?

September 11, 2010 at 4:57 PM

 

We tend to make the decision year by year. One year two of my kids did go to school, but came home the next year. My thing is that whatever we decided to do in the beginning we stick to for a year. Now sometimes I give in, like my dd taking violin lessons. But usually I'm pretty strict about it, because like you I don't like the yo yo-ing. Btw, my 9 yo was awful on Friday. She just put down her heels and dug in. Grrr.

Anyway, your week looks great in spite of it all!

September 12, 2010 at 12:03 AM

 

I can't wait to read more about your morning basket. Frida Kahlo and Diego Rivera: Their Lives and Ideas, 24 Activities looks really neat. Is it part of a series?

October 30, 2010 at 1:59 PM

 

I just found your blog from the well trained mind forums. I look forward to reading it. I love all your choice of titles you have on your sidebars.