At least once a week I make the rounds of my favorite thrift stores, and occasionally, my favorite antique mall (I'm on the waiting list to have my own booth there, hopefully someday soon!). Some weeks I find lots of good stuff, other weeks, not so much, though I've learned by now to go often for the best deals. Though we may not have much here in Wichita, we do have a pretty awesome thrift scene.

When I'm feeling really ambitious, I'll also tackle the estate and garage sales, though those seem a bit more hit-and-miss and usually require far more foresight and dexterity than I apparently have. You see, when it comes to thrift shopping - I'm often very indecisive. Way too often I'll be thinking about an item, only to have it snatched out from under me by another (quicker!) dealer or shopper ~ this is especially true at estate/garage sales. Or, I'll spy an item and determine to buy it, but then pause to look at something else and suddenly, voila! - it's gone.

Those losses often haunt me later, but I know, you snooze, you lose! Conversely, I've also pounced on an item and purchased it way too quickly, only to later wonder, what on earth was I thinking?! I really haven't figured out the best approach yet, despite having been at this for over half my life. Nevertheless, I wouldn't give up a day of thrifting for anything!

Enough of my woes, here were this week's finds, thus far:


Books:
God Is An Englishman
,
Boardwalk Empire
,
The Diddakoi,
Pippa Passes
,
Mr. Lincoln's Wife
+
3 Like-New Holling C. Holling Books (Not Shown)
Quilted Tablerunner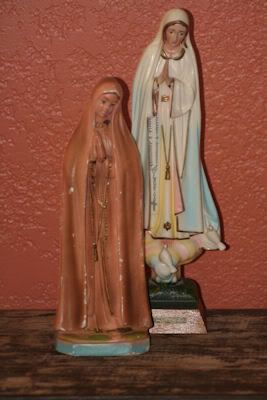 Vintage Fatima Statues (.95!)
(4) Fall Placemats + New-in-Package Table Runner from
World Market
Small Porcelain Virgin with Child
Vintage Sheets and Pillowcases
Vintage Aluminum
Jello Mold
+ Bundt Cake Pan
And lastly, my
prize
~ a gorgeous full-size vintage quilt (in very good condition), for only $3.48!: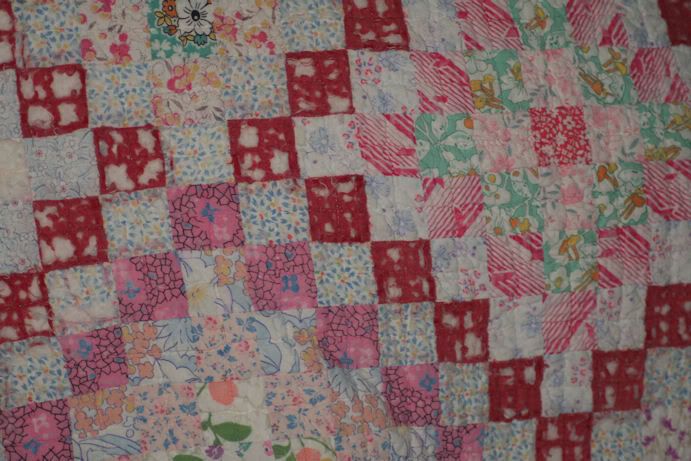 So, nothing
extraordinary
this week (except the quilt), but overall I'm pleased with my purchases...most of which are fairly useful. Shockingly enough, I did
not
come home with any glassware this week, which is almost always the first thing that attracts me!
Thrifting 101:
2 Comments:
Faith said...

September 2, 2010 at 11:53 AM

 

So how do you do thrift store shopping and keep down the clutter in your house? That's my problem. I only treat myself to antique stores once or twice a year because I know I've got sooo much clutter! I love all your finds. I went through an intense Delderfield period. And I love Rumer Godden! So I'm jealous of your book finds!

Kristine said...

September 2, 2010 at 12:10 PM

 

First, I purge things from the house on a pretty regular basis - sometimes much to my regret later. I'm terrible about getting rid of things in haste, but at the same time, a lot of clutter drives me crazy!

My cupboards and bookshelves are all packed to bursting & I try to store things as creatively as possible. I'm pretty good at rearranging to make room for my newest finds. We also have a storage unit, but I don't use that nearly enough.