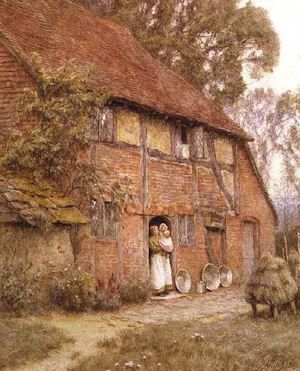 The Mayor of Casterbridge by Thomas Hardy
Cider with Rosie by Laurie Lee
A Much Married Man by Nicholas Coleridge
The "Cottage Tales of Beatrix Potter" Series by Susan Wittig Albert:

The Tale of Hill Top Farm
The Tale of Holly How
The Tale of Cuckoo Brow Wood
The Tale of Hawthorn House
The Tale of Briar Bank
The Tale of Applebeck Orchard
The Tale of Oat Cake Crag

The Chronicles of Barsetshire by Anthony Trollope:

The Warden (1855)
Barchester Towers (1857)
Doctor Thorne (1858)
Framley Parsonage (1861)
The Small House at Allington (1864)
The Last Chronicle of Barset (1867)

The Barsetshire Novels (29 books) by Angela Thirkell
The Fairacre Series (18 books) and Thrush Green Series (12 books) by Miss Read
Tales from Turnham Malpas
The "Make Way for Lucia" Series by E.F. Benson

Queen Lucia (1920)
Miss Mapp (1922)
Lucia in London (1927)
Mapp and Lucia (1931)
Lucia's Progress (1935, also known as The Worshipful Lucia)
Trouble for Lucia (1939)

The "Allways Trilogy" by Bevery Nichols:
The "Appletree Saga" by Mary Emily Pearce:
Other novels by Mary E. Pearce:


Cast a Long Shadow (1977)
The Two Farms (1985)
The Land Endures (1978)
Seedtime and Harvest (1980)
Polsinney Harbour (1984)
The Old House at Railes (1993)
Authors
Paintings by
Helen Allingham
(1848-1926)
2 Comments:
Faith said...

July 26, 2010 at 11:27 AM

 

I love this list!!!

My dh and I have just started watching Larkrise to Candleford. He downloaded it on his ipad and we've been watching in bed before we go to sleep! We are up to episode 4. Have you seen them?

I do wish you lived next door to me. I think we are kindred spirits!

Kristine said...

July 26, 2010 at 1:09 PM

 

Lark Rise to Candleford was actually the inspiration behind this list. After finishing the book and Flora Thompson's other work, I was eager for more.

You will LOVE the episodes. They're my favorite thing, ever - I actually ordered Season 3 from England because I couldn't wait to watch it (not realizing the episodes were all on YouTube). I was *thrilled* to learn that Season 4 will start filming soon.

I do wish I lived next door too!