There's been a lot happening with the garden in the past week or so, though there's still SO much more to do!

All of apple trees have completely leafed out...


A week or so ago, I was thrilled to notice blooms appearing on an older 'Winesap' apple tree that we planted last fall, as well as on the 1-year-old
'Calville Blanc d'Hiver'
whip planted at the same time.
Our 'Moonglow' pear has been blooming for the past week:
We also planted a 'Large Russian' Medlar tree out amongst the apple trees in our back field. Frankly, I'm more interested in the tree's history than it's fruit, but the fruit will be interesting to try.
A recent trip to Lowe's revealed that all of their big raspberry plants had received some (mostly cosmetic) frost damage and were marked down from $10.00 to $1.00! We rescued five of the most promising plants and already they've shown lots of new growth. Now we'll have a patch of 'Latham' raspberries (which normally ripen from late June to July) as well as 'Heritage' (which produces a crop in both June and September).
In the front yard, we planted a
Scarlet Corkscrew Willow Tree
(
Salix matsudana 'Scarlet Curls'
) ~ I adore its contorted branches, but really, I'd wanted a willow for it's usefulness in
propagating plants
. The branch color becomes more pronounced in cold weather.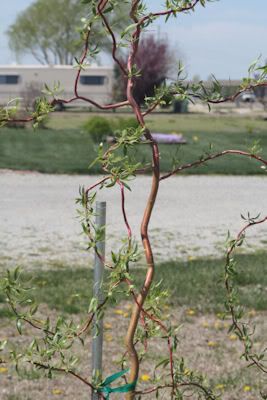 We also planted a 'Butterfly' Japanese Maple Tree (
Acer palmatum 'Butterfly'
), which will be very pretty with its pink and red fall color.
There's A LOT still waiting to be planted, once the danger of frost has passed: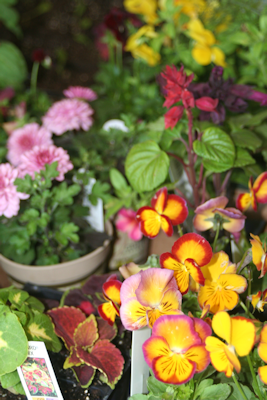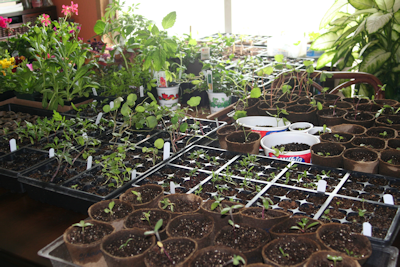 Only in the last few days have several herbs germinated that were planted over a month ago! I'm finally seeing Marshmallow, Weld, and Hyssop ~ all destined for our medieval herb garden.
I planted four different types of lilac bushes (for varying shades of purple blooms). Shown here is a 'Declaration' Lilac: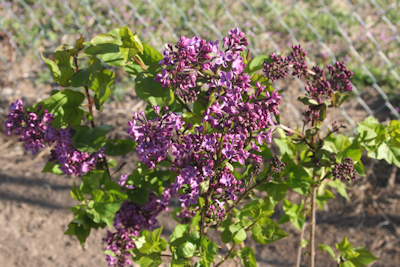 Also, four varieties of mint: apple, berries 'n cream, chocolate and orange. I have an additional 3-4 mint varieties on the way: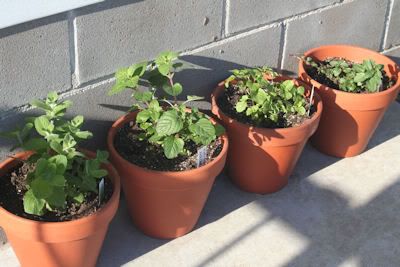 Lastly, we've been busy laying out new beds and weeding ~ I've got 12+ roses due to arrive this week as well as a
3x1 'Fruit Cocktail' Tree
, so there's lots of planting to be done!
0 Comments: