As it's beginning to feel more like spring, garden projects have been keeping us quite busy these days. Here's a little of what's been happening:

Planted 8 store-bought/impulse roses (a big no-no for rose connoisseurs, I'm aware, but they were cheap and by all appearances in great shape, so I'm taking my chances): Joseph's Coat, Lowell Thomas, Paul Neyron, Hot Cocoa, Cinco de Mayo, Angel Face, Camelot, and Europeana. The roses are all leafing out like crazy, and with some heavy mulching, continue to thrive despite last weekend's freezing temperatures and snow (!).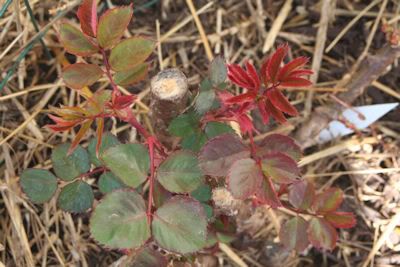 Ordered the following roses:
Ash Wednesday
,
Cardinal de Richelieu
,
Gloire de Dijon
,
Mme Berard
,
Smoky
,
St. John's Rose
,
Mons Tillier
,
Cl. Souvenir de la Malmaison
,
Ebb Tide
,
Mme Ernest Calvat
,
Edmond Proust
,
Lady Banks
, and, my favorite combination (for our arbor bench):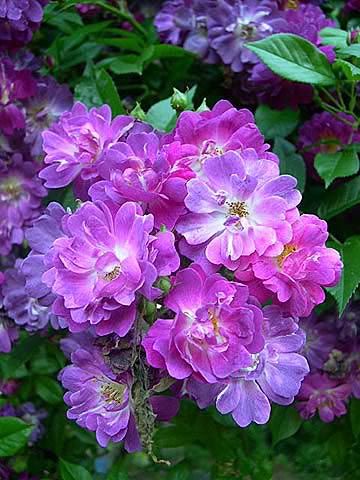 'Veilchenblau'
'Bleu Magenta'
+ 'Etoile Violette' Clematis
Planted our latest shipment of heritage apple trees from the wonderful Tom Brown at
Apple Search
: Autumn Strawberry, Bee Bench, Green Horse, Ice, Haywood June, Forward Sour, Sal, Virginia Beauty, Yellow Horse and Yellow Winesap. They were *much* bigger than some of the other trees we've planted, so I was quite pleased!
We've been tilling and preparing new beds for vegetables and our
herb garden
. Initially I'd planned for everything to go into raised beds, but that was going to be a bit too expensive, and since we've got good soil, totally unnecessary. So, it appears that we'll have a mix of tilled beds and raised beds, which I'm still trying to sort out.
Moonflower vine
Our seedlings are (mostly) all doing well, but have been keeping me insanely busy. For the first time ever, I was able to get my Moonflower vine seeds to germinate!
Created a small everbearing strawberry patch and inspected the raspberries, blackberries, gooseberries, and currants planted last fall. The currant bushes disappeared entirely (rabbits?), but everything else appears to be "waking up." The lingonberries seem to be doing especially well, much to my surprise.
For my birthday this week, my Mom sent me:
these shoes
from
The Original Muck Boot Company
, which I'm in love with (
so
comfortable!), and
Bionic Rose Gardening Gloves
. I'm also getting a number of new roses, as well as a lovely lilac bush from my Grandmother. I bought myself a book I've been wanting for awhile,
The Wild Garden: Expanded Edition
by William Robinson and Rick Darke
This weekend we've got a tree sale to attend, and more raised beds to build. My husband had hoped to start on the chicken coop, but somehow I doubt there will be time. We'll also need to stake all the new apple trees and continue weeding (the never-ending chore!).
0 Comments: